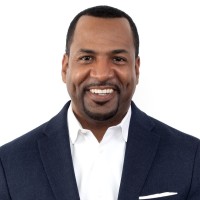 Interview: Reggie Gresham, VP of Sales of the Enterprise Business Unit, Matrix Integration.
Prepared By: Dawn Yankeelov
Date:  Feb. 18, 2022
Reggie Gresham serves as the VP of Sales for the Enterprise Business Unit of Matrix Integration, and is a member of 100 Black Men of Louisville, and a graduate of Eastern Kentucky University.  Matrix Integration is a privately-held IT solutions and managed service provider with annual revenue of approximately $60 Million. The company is based in Jasper, IN with offices in IN and Kentucky for more than 40 years.  Matrix Integration has been recognized on industry lists including CRN Solution Provider 500, CRN Managed Service Provider 500, CRN Women of the Channel, and CRN Tech Elite 250.
Tell us about your role at Matrix Integration.
Gresham: I am actively leading technical sales and project management here for about four years, and began my career in sales earlier on the street making cold calls. I have a team of 15 people that directly and indirectly report to me where all are charged with helping clients leverage technology to impact business. I deal with direct sales leaders as well as technical sales engineers who consult and design for the client. Matrix Integration is narrow-focused on IT infrastructure from handheld devices to structure cabling to connecting to the internet as well as managed IT services for small to medium sized businesses who need 1 or 2 IT people, one to function in a niche area and one on infrastructure, for example. One internal, one external from our team, for example.
Question: What does it take to be in technical sales?
Gresham: You have to be coachable in technical sales. You have to consider that in three to five years whatever you are selling now will be outdated and you will need to "take your client's temperature" to see where they are at, over the years. To be in technical sales, you must have a passion to see the client succeed and understand expectations—clients want to move faster or protect everything, but often they don't have the budget to do either, so the final decision is often based on a financial justification of what they can afford. It's about a 90-day IT sales cycle, depending on the opportunity and the urgency of the issue. There's a push for cybersecurity services and a lot of clients have to fulfill on insurance mandates for meeting tech standards to renew their cyber insurance, for example. We look at security issues as falling into three levels beginning with infrastructure—both the physical hardware and software—tangible for alerts and prevention. This protects the house. The second level is about monitoring—someone's on your street and you should know. The third level is for compliance and regulatory security, where we tend to partner. We handle infrastructure security and we want monitoring and assessments to be down by third parties to alleviate issues.
Question: What are some of the tech wins in this past year?
Gresham: We did work for school districts dealing with ransomware and helped them get back up and running in a 24-48-hour period. In one case, it happened on Spring Break and there was an urgency to have it resolved quickly. We've also be called in to do IT consults during manufacturing mergers where, in one case, the applications of the acquiring company was not up-to-date, dealing the acquisition process for business to continue. These are generally quick turn scenarios, complete in two to three weeks.
Question: What technology do you use in technical sales?
Gresham: We need a strong CRM system and use ConnectWise. In this system we are able to measure and track opportunities we are working on,– we know that, for example, if you are working on a $1M quota, we need a $2M pipeline. And we are going to want to measure closed sales. CRM assists with follow-up and transitions. You put in reminders, like a reminder on solutions that have warranties that need alerts 30-60 days in advance. For lead generation, we must leverage social media. You don't "look in the Yellow Pages" anymore. You hone in on the demographics you seek in a sales cycle—such as certain types of manufacturers. We know that we are very focused on the education space and we know what percentage of our business comes from financial institutions, so we know who we are targeting and are looking to bring in as clients. Project management is also a built-in module for more operational activity—screen pops when you call in on details regarding the account, for example; and access to portal features that track progress and allow us to look at scheduled inventory to ship. This has been an issue of wait times and scheduling during the pandemic.
Question: Who do you recruit to technical sales?
Gresham: We currently have 5 openings in technical sales. I look for people that have a "figure-it-out" attitude and want to win. We've developed a series of our own tests we use to gauge this. The technical aspect of IT sales can be couched onto this type of thinking through discussion on trends and other training on the job. Sometimes we will hire entry level for prospecting and marketing with a script and often we look for 1 to 2 years in the technical sales space. We have some promotion from within the organization where implementation engineers can move to technical sales. Or if we find a recruit that is strong in an industry, like a counselor from the education space, who wants to migrate to technical sales — it can assist them in knowing how the education sector really functions.
Question: Has the pandemic affected how you work in technical sales?
Gresham: I would say 89% of all our meetings are now done in Microsoft Teams. We still have about 11% of all our meetings with clients at the face-to-face level, but even with the overwhelming changes of remote work, we do a lot of collaboration. We use whiteboarding in Teams to look at where a client is at and where they are going in IT. We leverage this type of engagement.
Question: What are the top 2022 priorities for you and your sales team?
Gresham: First, we will prioritize security for infrastructure, going up to the compliance and regulatory level. And, secondly, we will look for fractional IT work where people can't find the resources and hire us to do project work or on a weekly basis for key tasks. The top tech trend we are contending with is that clients are moving more to the cloud. And security is moving toward more compliance related discussions as breaches continue to be more predominant. Companies know they must address this and put some kind of security in place.