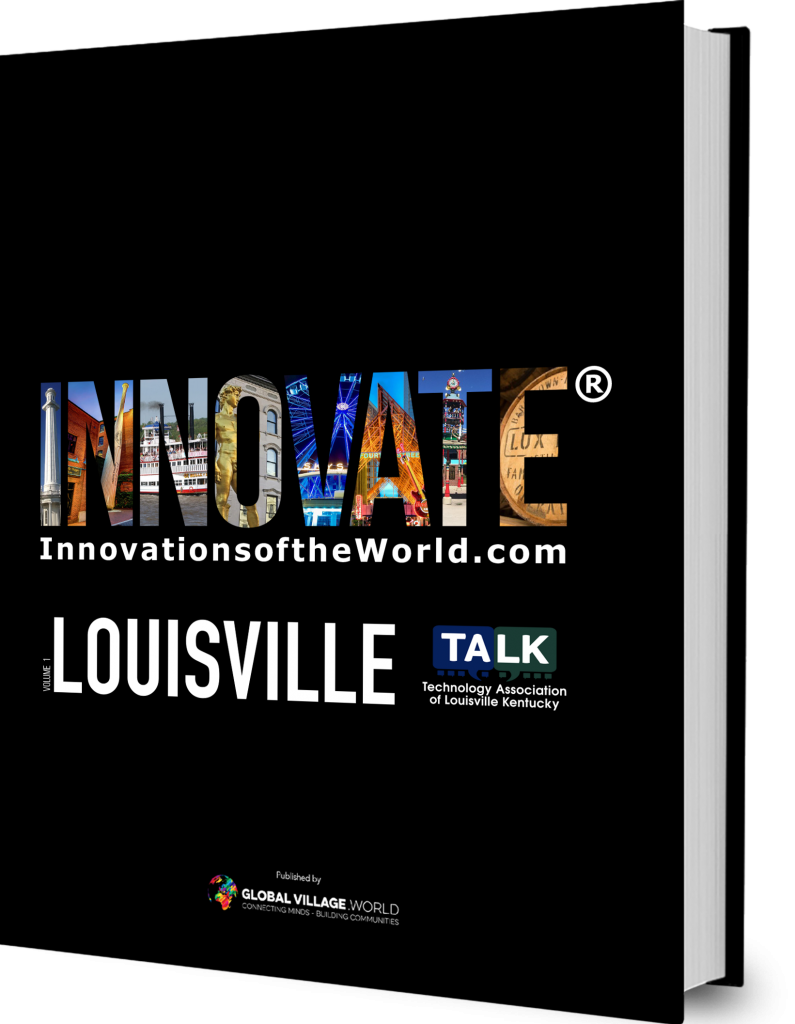 This Local Employer-Led Tech Council Will Oversee Nominations for The Book Within the Greater Louisville Tech & Innovation Ecosystem
(Louisville, Ky.—Feb. 3, 2020)—Note: Due to COVID-19, this project has been postponed until Spring 2021. The Technology Association of Louisville Kentucky, the area's non-profit, employer-led tech council, has signed a collaborative partnership agreement and is participating in a joint effort to produce a compilation book of area resources to showcase the tech and innovation in Louisville, Ky.  Global Village World will publish and market the book to be entitled "INNOVATE® Louisville" by the fourth quarter of 2020. Click here to pre-order your books today!
"The primary purpose of the book is to showcase the growing innovation ecosystem that is driving business and industry in Louisville, and to demonstrate how TALK serves as a valuable connector and educator for innovators and enablers in the Louisville market. It is time to celebrate our 100+ innovators and thought leaders, as we have now been identified nationally as an emerging tech city," said Dawn Yankeelov, Executive Director of the Technology Association of Louisville Kentucky. The tech council is one of more than 60+ tech councils in the United States that fall under TECNA, the Tech Councils of North America. TALK has more than 3500 people participating in tech and innovation on its mailing list for the region.
Participants' stories will be featured online in the Global Village World blog and in TALK's social media on Linked In, Facebook, and Twitter. The stories will be inspirational in nature, and TALK will be featured on the cover and throughout as a major ecosystem partner. Embedded in the pages of the upcoming book, you will find augmented reality videos. By using the free GLOBAL VILLAGE AR app the world of the tech and innovations markets will be available to all.
Books will be sold in a crowdfunding methodology to anyone globally interested in the area, and will feature profiles or organizations, corporations, emerging companies, and innovation leaders. Underwriting for the publication will be from pre-and post-publication sales to participants in the book, and post-publication sales to non-participants across the globe at approximately $85 per book with discounts available. All those featured in the book will have options to purchase books for distribution at discounted rates, if desired, but it is not a requirement.
The book, anticipated to cross 300+ pages, will be a hard-bound, deluxe, large-format, coffee table book and legacy publication. E-book versions will be available and sold online both on the TALK website as well as at innovationsoftheworld.com and in the GlobalVillage.World library. There are 25+ other ecosystems now featured in similar books or under development, as part of a global series.
"This inaugural edition is meant for all business leaders and decision-makers who can affect change in their industries throughout the world. It will showcase the recently transpired changes in the Louisville ecosystem, and we are happy to welcome TALK and Louisville to the Global Village network,"
Said Sven Boermeester, International Group Publisher of Global Village World.
The Louisville tech sector has approximately 1,900 companies in the tech sector, with an economic impact of $33 billion, according to recent area studies. The current Louisville SmartAsset's ranking indicates it is one of the top 25 cities in the US for work-life balance. Louisville has also ranked among the top 10 U.S. metros with the lowest startup costs recently, by Embroker. Jobs in information technology have experienced the fastest growth of all the major occupation groups within the Louisville region since 2010 (Emsi, 2019).
For more information on TALK, and to attend area events, always visit this website at www.talklou.com or Twitter @talklou, as well as Technology Association of Louisville Kentucky on Facebook and Linked In.
For more information on Global Village World, and to see other Global Village books, visit www.innovationsoftheworld.com