TALK Launches Its Summer Bring Business Back Series to Assist Companies, Corporations and Small Businesses
TALK would like to offer you guidance from experts who have the experience to assist. It's time to take action, and look at where your marketing, PR, sales, and related communications are taking you. Is the digital transformation curve working for you? Are you telling the stories you need to be telling? If COVID-19 shut you down, do all your stakeholders know you are back with doors open? Each Tuesday at 1 PM, we will look at topics of interest to assist you in your outreach and getting your communications back on track. We will look at what other executives are doing, what markets dictate, and how strategy can drive you through the next few quarters with COVID-19 being the wild card. $10 per session, and you could get the counsel you need to step forward with clarity and purpose. Register on Eventbrite:
First Topics: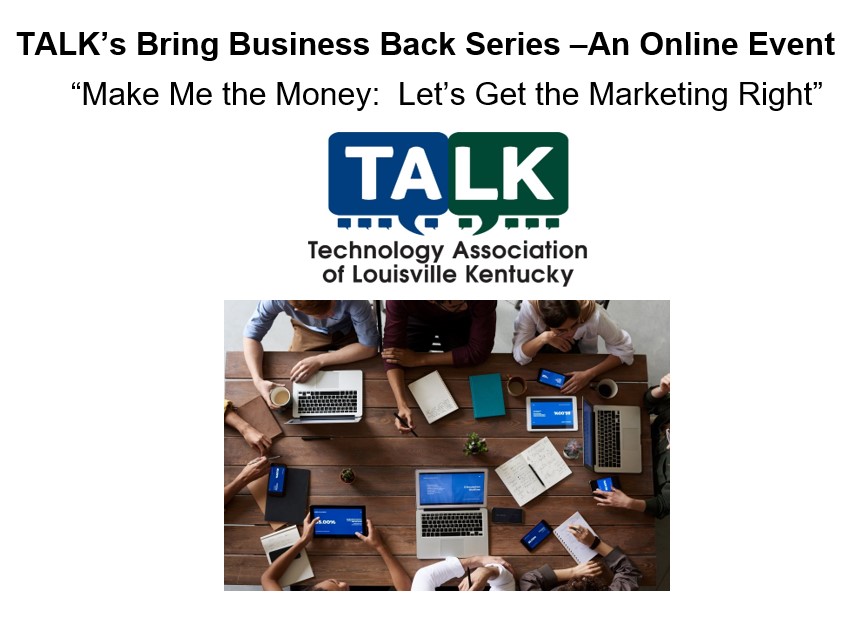 July 14, 1 P.M., Make Me the Money: Let's Get the Marketing Right Speaker: Dawn Yankeelov, Founder of Aspectx
In this 1st TALK Bring Business Back Series online, Dawn Yankeelov, president of Aspectx, a public relations and marketing firm, will present on what priorities other executives have put first when it comes to marketing your company. This is a general session that will review where other leaders are placing priority in their next marketing steps, how to put a quarterly plan together for quick shifts, and what COVID-19 has showed us about what people are looking for in communications.
Ms. Yankeelov, founder of Aspectx, and executive director of TALK, has more than 30 years experience in working with clients in growth who must pivot and place themselves into trends, nuances in market activity, as well as crisis communications. The time is now to begin to bring your business back. TALK, the local tech council in Louisville, KY, has put together a series of weekly sessions to assist you in getting your marketing strategies in order to move forward, beyond worries of COVID-19. This is the first in the series, every Tuesday for one hour at 1 PM ET. Join us! $10 per session.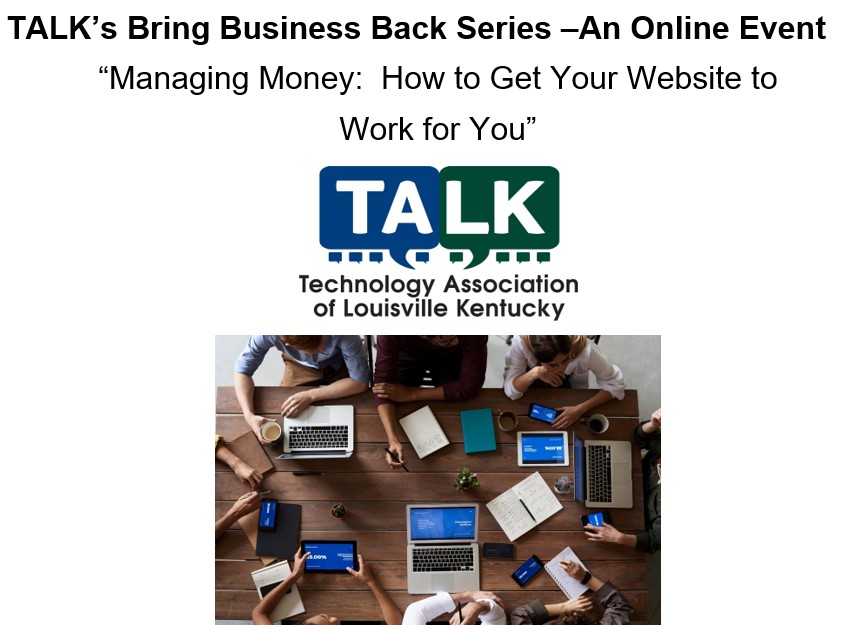 July 21, 1 P.M. Managing Money: How to Get Your Website to Work for You Presented By: Lee Ann Lyle, Founder of LAL Computers
TALK's Bring Business Back Series–An Online Event. "Managing Money: How to Get Your Website to Work for You." This is one of several sessions to get you out of your COVID-19 worries and into proactive action steps to move your business life forward! Lee Ann Lyle of LAL Computers will present how to get your website to work for you. You may be pouring money into it, but maybe it is time to step back and do some strategic thinking before rushing in with another graphic or a price drop. No matter what kind of business you own, this session will assist you in setting priorities and share knowledge from what is working for others during these trying times.
Lee Ann Lyle is the owner of LAL Computers LLC. Ms. Lyle's technical expertise provides the background for her core business, website development. Previously a computer instructor, Lyle brings an articulate approach to every project. Using products like DreamWeaver and WordPress, Ms. Lyle offers creative, affordable solutions for her diverse client base. Throughout her career, Ms. Lyle has earned numerous technical certifications including Certified Apple Instructor and Microsoft Certified Professional and has served as a leader in the TALK tech community.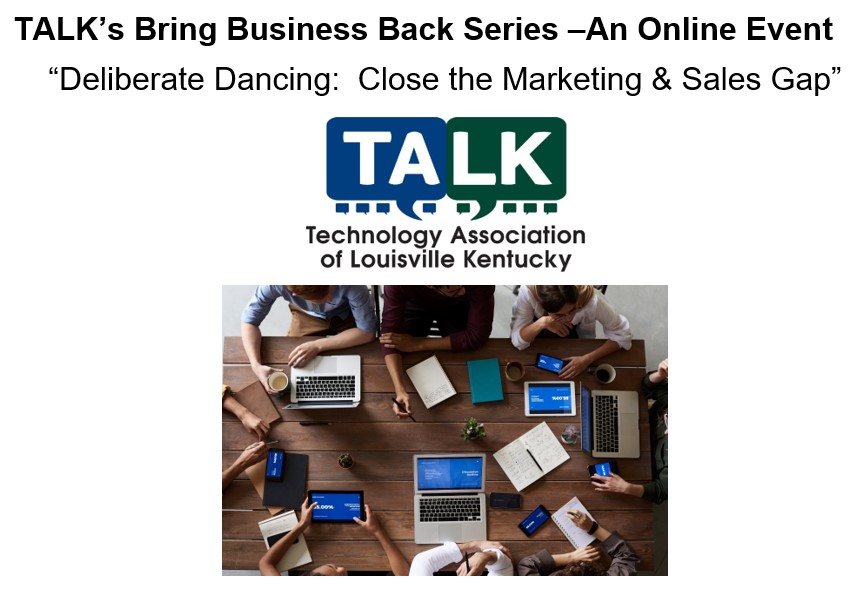 July 28, 1 P.M. Deliberate Dancing: Close the Marketing & Sales Gap (A Panel Discussion) Panelists: Dawn Yankeelov, Aspectx; Lee Ann Lyle, LAL Computers; and Biggs Tabler, Gold Marketing By Biggs.
TALK's Bring Business Back Series–An Online Event. Join us for this entertaining panel discussion on how to close the marketing and sales gap in these trying times for all types of businesses. "Deliberate Dancing: Close the Marketing & Sales Gap." In this hour, a seasoned panel of experts will show how marketing and sales planning in these trying times need to line up, and how to begin to get this process under control. Panelists will offer you time-tested tips through storytelling on how to get marketing and sales to dance in the right direction.
Panelists are:
Dawn Yankeelov, President of Aspectx, specializing in tech and healthcare
Biggs Tabler, Golf Marketing by Biggs, specializing in food, entertainment and leisure
Lee Ann Lyle, LAL Computers, specializing in small business digital transformation
This series is brought to you by TALK, the Technology Association of Louisville Kentucky to assist you in bringing business back as we re-organize from COVID-19 happenings.